Choosing a flooring from the large collection of Bolon products can be a little tricky. That often being the case, we thought we'd assist by guiding you through an important part of the Bolon production range; our different tiles.
Bolon tiles come in two varieties: Bolon Standard Tiles and Bolon Studio™ Tiles. The significant difference between the two is that the Bolon Standard tiles are approximately 5 mm thicker than the Studio tiles.
The 50 x 50 is our original tile version that has been a part of the Bolon product range for more than 15 years. Those tiles come in squares of 50 x 50 cm (hence the name) and are available in selected designs from nine different collections, including; Artisan, Graphic, Silence, Create, Flow, Ethnic, BKB, Botanic and NOW. One clever thing about our standard tiles is that instead of being fastened using glue, original tiles can be fastened using adhesive tape. For this reason, original tiles can be used for access floors.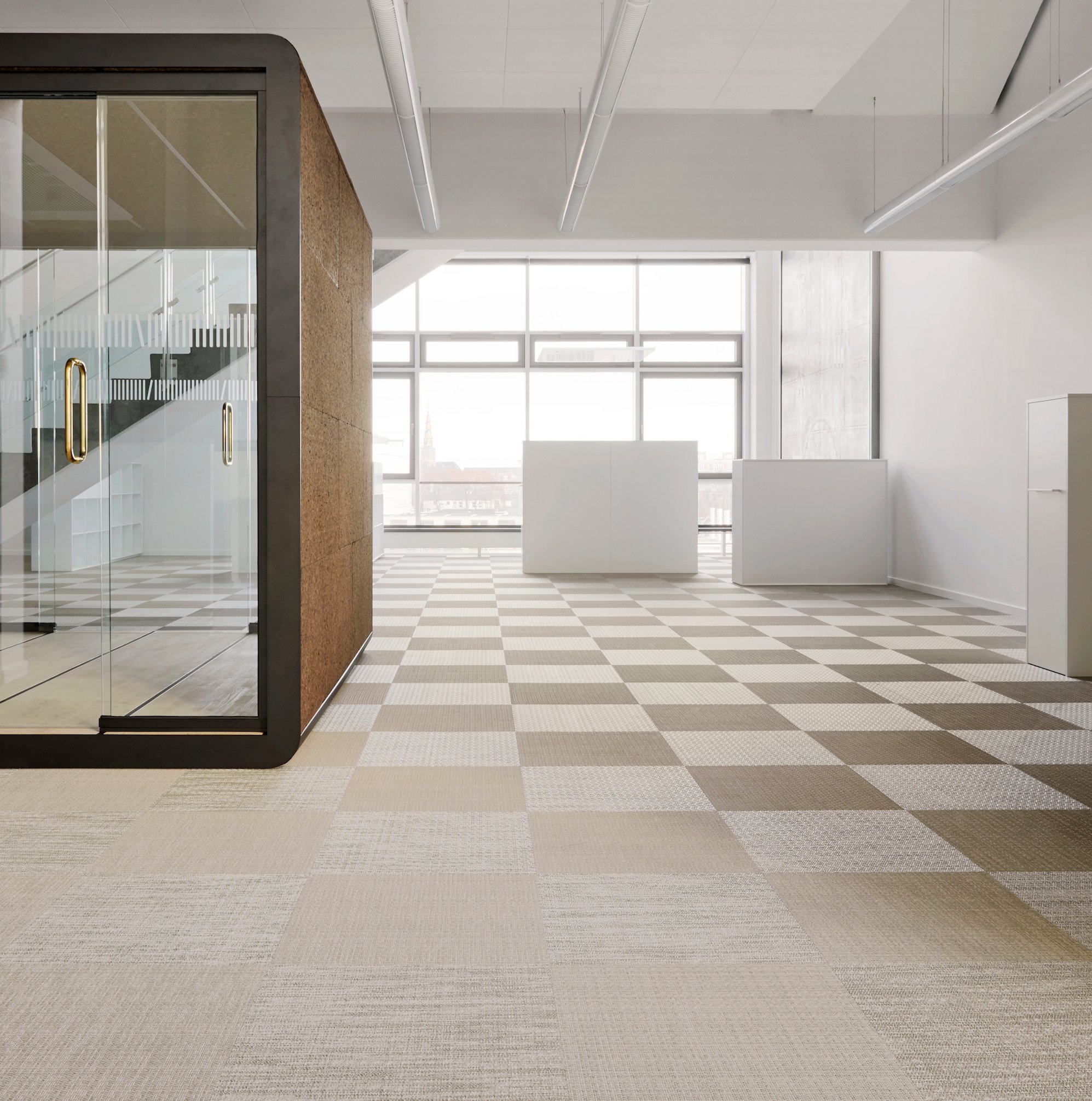 Elements Oak in 50 x 50 tiles at Copenhagen University.
Bolon Standard Tiles
:

Planks
Bolon's collection of standard tiles is made up by Bolon 50 x 50 tiles and Bolon planks. Planks is a stylish flooring shape that can mimic the patterns of traditional, solid wooden parquet flooring without being boring. Please note that planks are only available in Silence and selected articles of Graphic and Artisan.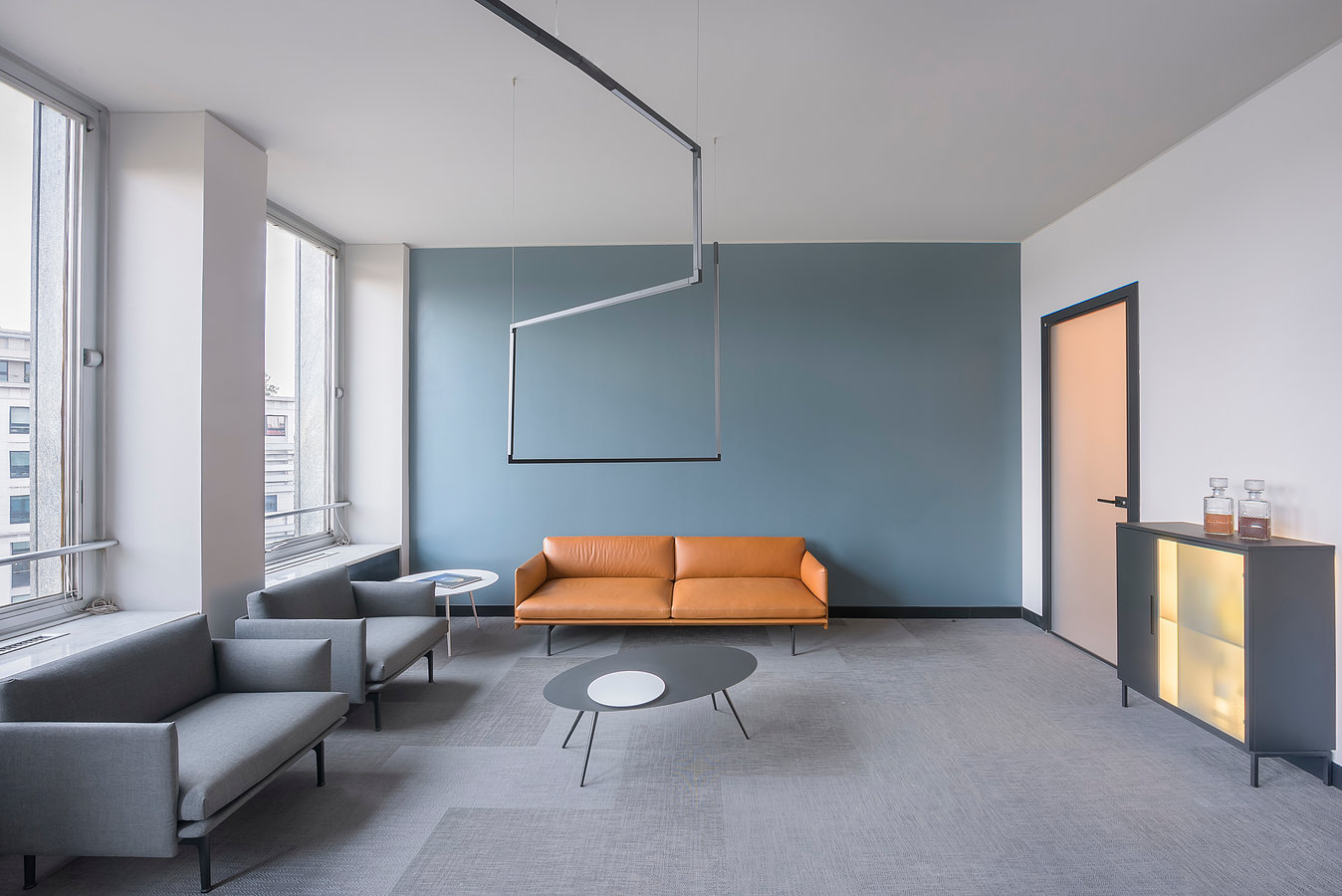 Bolon Planks in Silence Sense at WeWork Agency in the US.
Eight years ago, the Bolon Studio concept was launched to provide designers and architects with an option to personalise their own flooring solution. By making their own selection, Bolon Studio allowed customers to install the majority of Bolon's collections in our very first shape; triangles.
Since then, the Studio concept has evolved to a current amount of seven shapes, including Triangle, Deco, Rectangle, Hexagon, Wing, Scale and 2017's addition; Wave. Depending on the choice of colour, the direction of yarn and the fall of light in the room, the chosen pattern will take on completely different characteristics.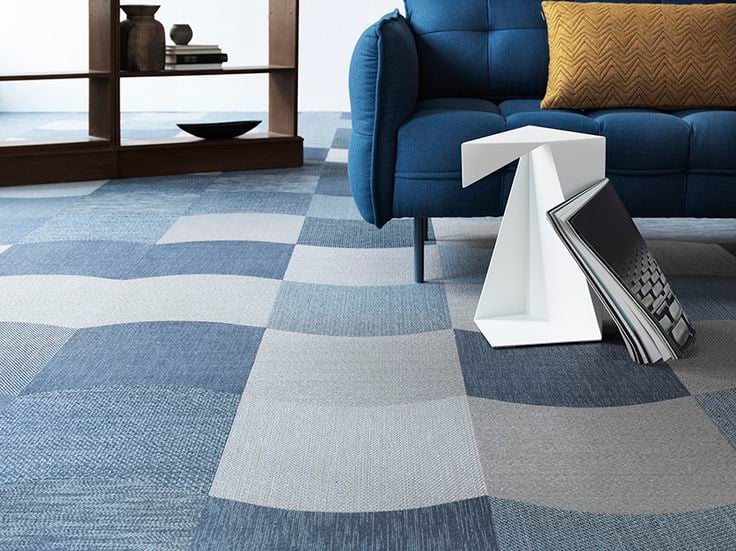 Bolon Studio Tiles Wave in Ethnic Kaise, Bkb Metallic Alpha and Botanic Iris.
In our online Bolon Tile Design Tool, you can easily design your own graphic patterns, export or share them with clients, colleagues and friends. In addition to the downloadable patterns, it is possible to download the outlined shapes in either .ai or .svg format. By choosing a shape, pattern, collection and design, you will soon have your own unique combination of flooring.
Keen to have a go at designing your version of Bolon flooring?
To learn more about our different shapes, see below.
Triangles:
Our bestselling tile, the triangle, has been installed and highly appreciated by customers all over the world. Adidas, Zalando, Skype, Education First and Hewlett Packard are only a few of our many customers who have expressed appreciation for this tile.
Its versatility, endless design possibilities and capability of transforming a room into an elegant, yet playful space makes the geometric triangle pattern an ever winning design concept that creates different vibes depending on where and how it's being installed.
For example, a randomised pattern of triangles in various directions contributes to a more bold, energetic and playful feel whilst setting the triangles in a more organised pattern 'tones down' open spaces and meeting rooms.
If you're keen on geometric triangle tiles, be prepared to enter a world of options...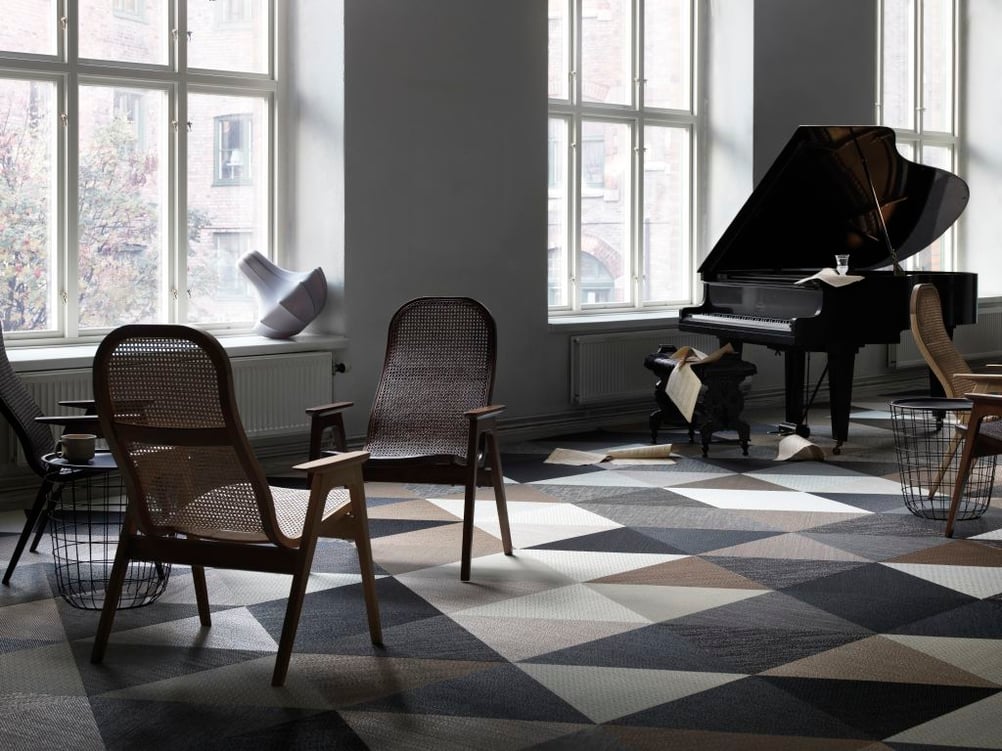 Triangles in an elegant setting. Product: 500; Artisan Ivory, Bkb Sisal Plain Black, Now Champagne and Silence Sense.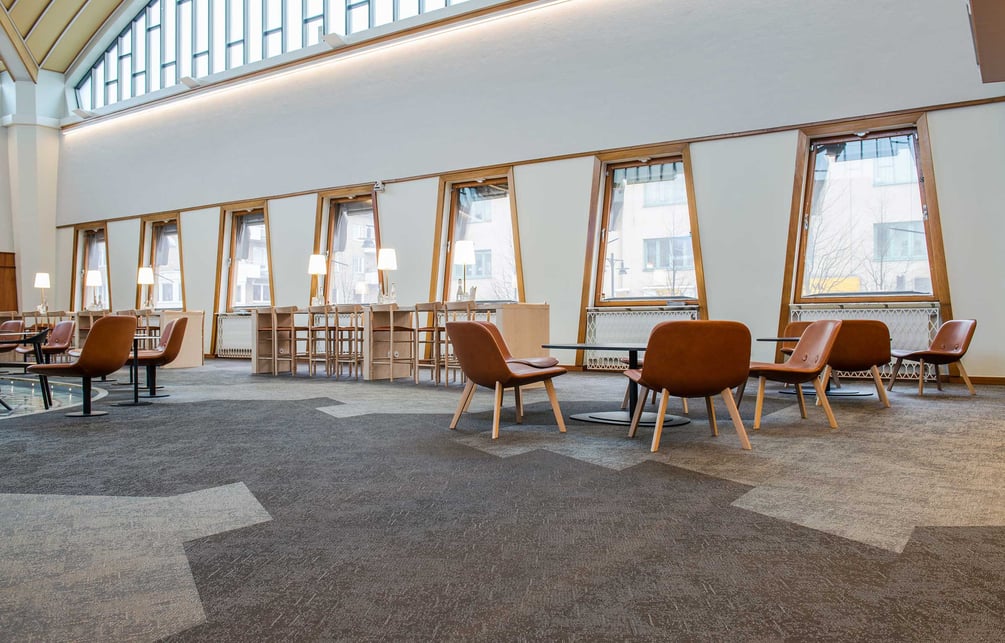 Vetenskapens hus, University building, Luleå. Product: Bolon triangles in Create.
Deco:
Deco conveys the elegant feeling and flourishing movement of Art Deco into contemporary floors. Smooth, classy and elegant when cut in the same flooring, while geometric, vibrant and sparkling when cut in a combination of collections. Bring your flooring to life with Deco!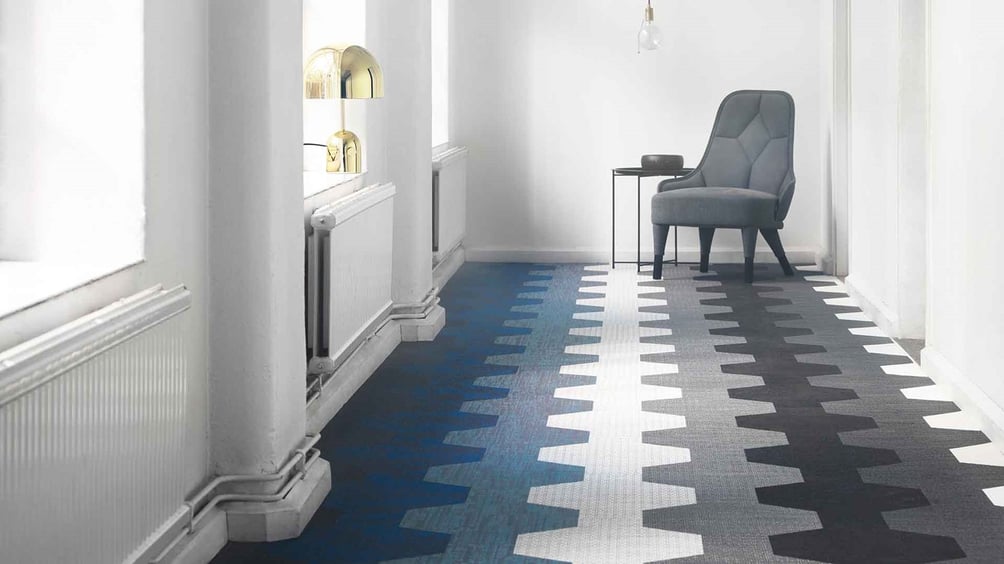 Deco in more of a sophisticated look. Create Fabrico, Silence Illuminate, Artisan Slate, Ivory.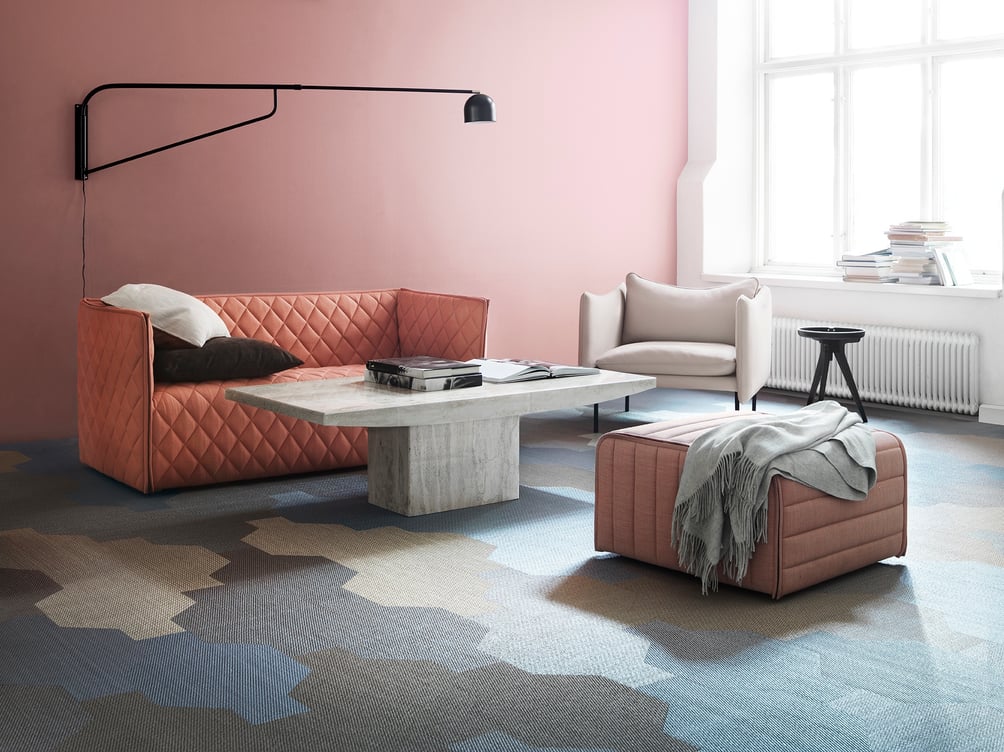 Deco; Now Silver, Ethnic Kaise, Bkb Sisal Plain Sand, Bkb Sisal Plain Mole.
RECTANGLE:
Rectangle, similar to plank, is a flooring shape that also has the capability of mimicking the patterns of classic wooden parquet flooring. The iconic rectangular form works well with all kind of interior design styles.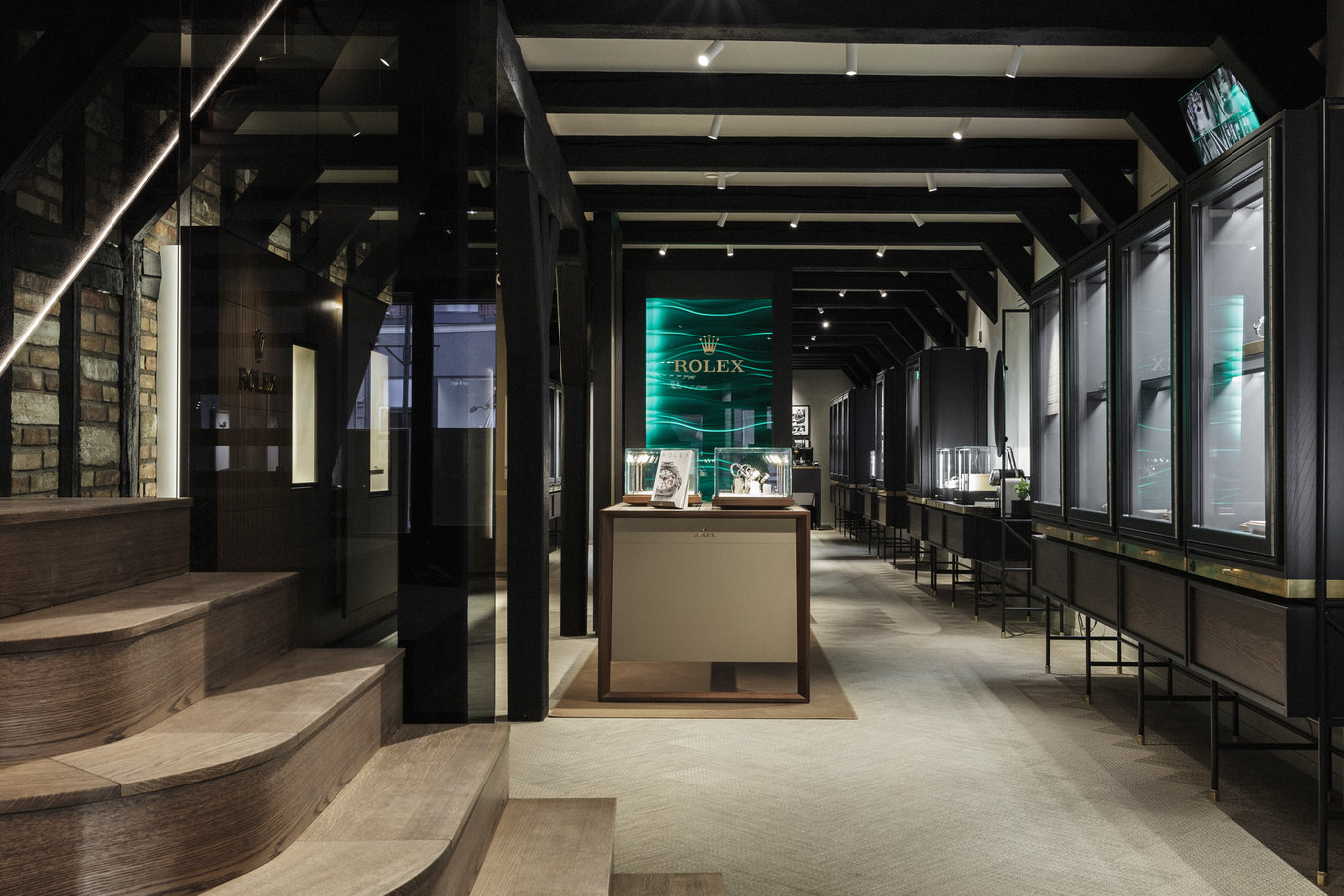 Rectangles at Bergströms ur in Malmö, Sweden.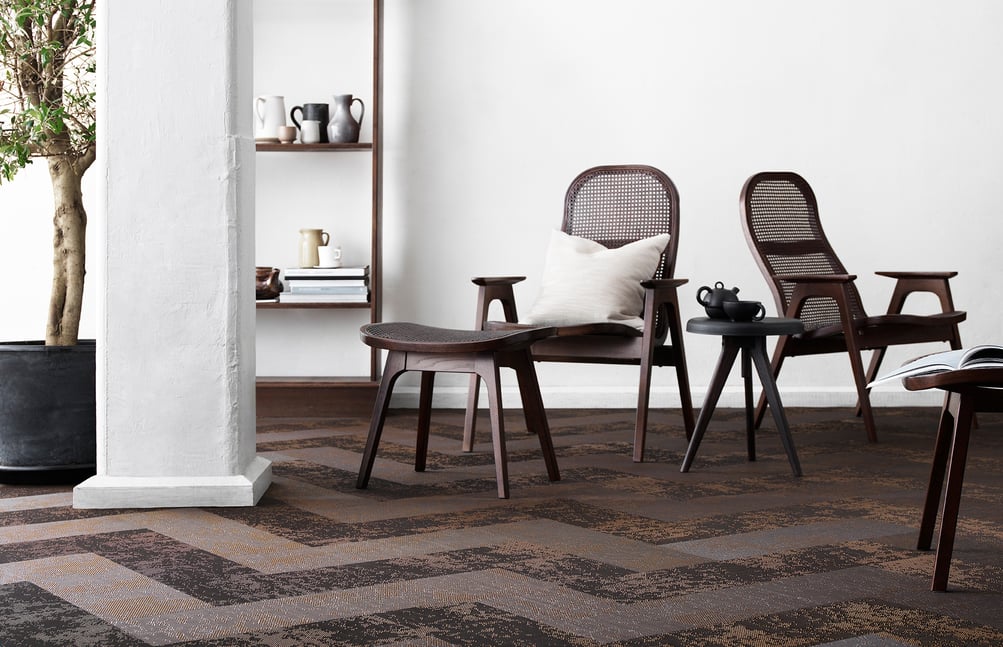 Rectangle; Create Comar.
HEXAGON:
With Hexagons from the Bolon Studio concept, architects and designers get a totally new take on this classic. The shape draws inspiration from nature, building up honeycomb patterns in all imaginable environments. The structure is fixed while the colour combination and direction of the shape in the installation is open to visionary imaginations in the creative process.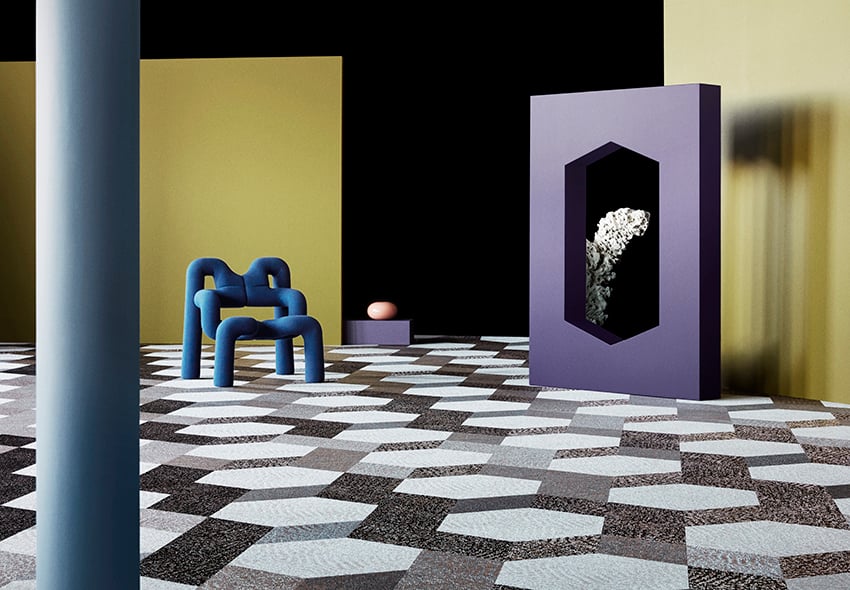 Hexagons and links in the 2019 Diversity collection making a beautiful pattern.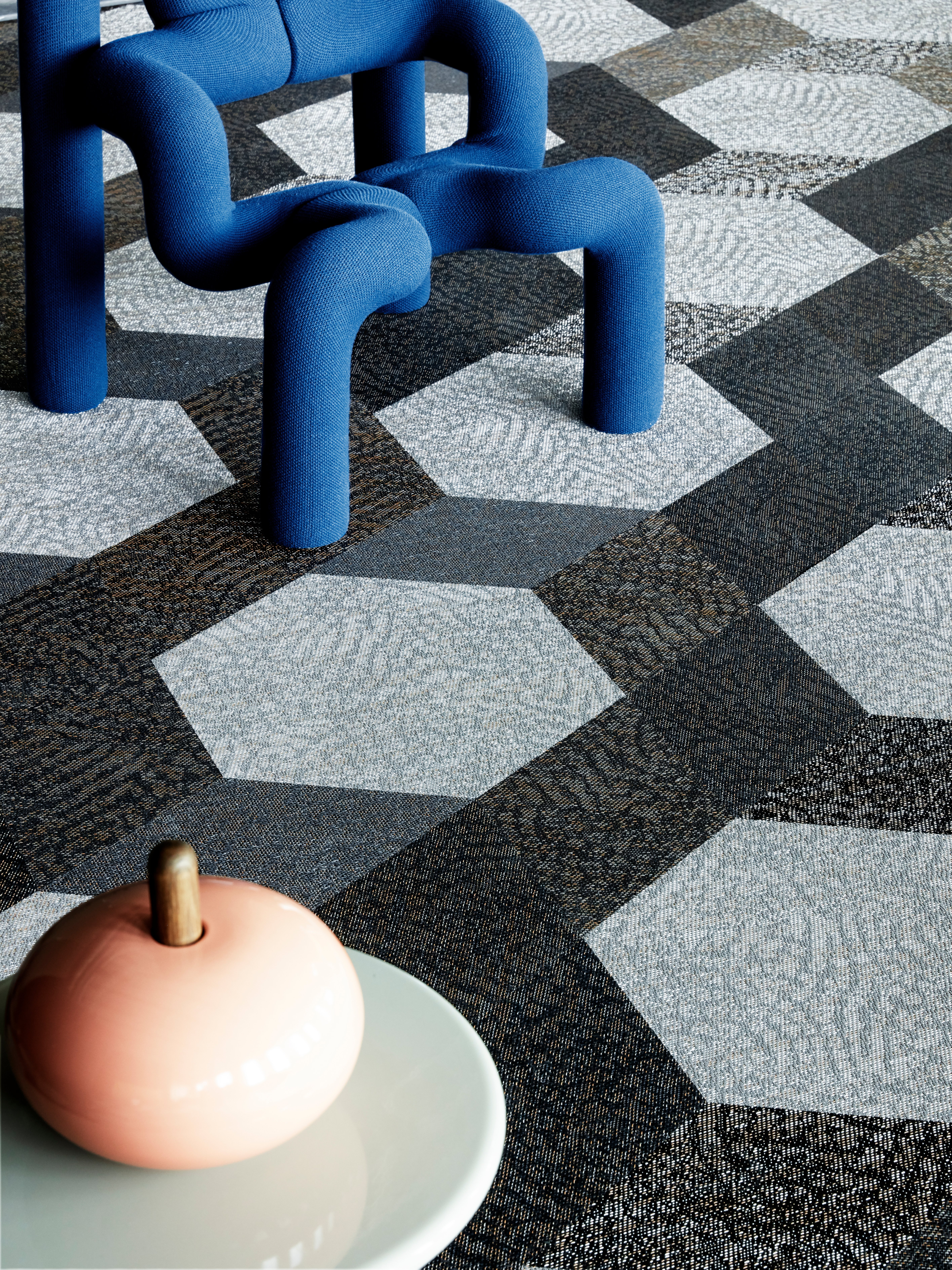 Hexagons and links in the 2019 Diversity collection making a beautiful pattern.
WING
:
Wing, one of the more flexible shapes, can be installed in several ways and each way giving the flooring a different look. The results are striking – the new format reenergises each collection with never-seen characteristics – especially in combination with one another.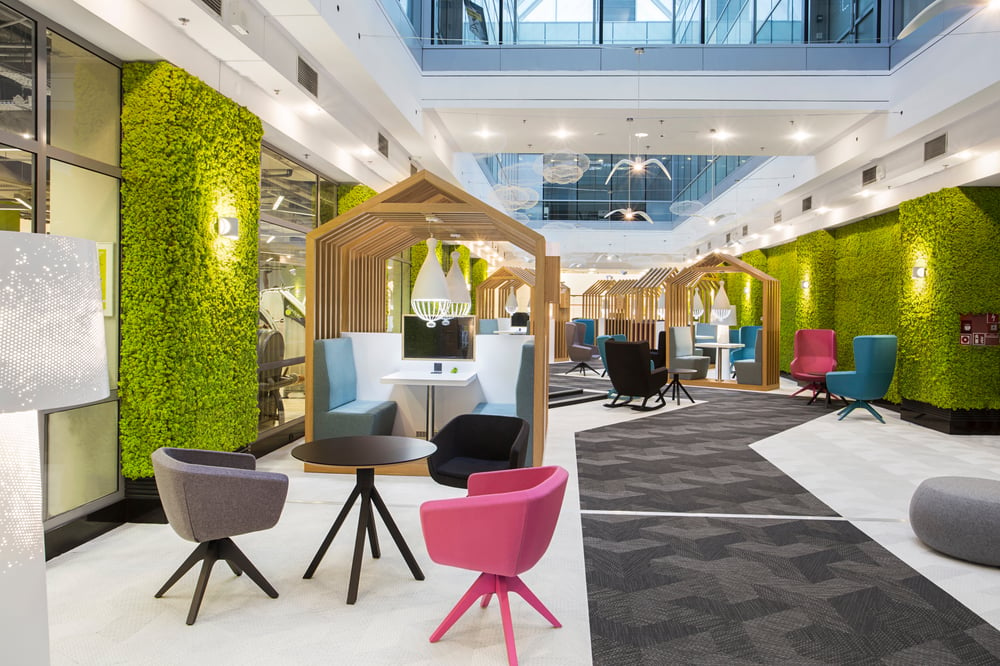 Wola Park, Warsawa. Bolon Studio™ Wing tiles in Artisan Ivory and Coal.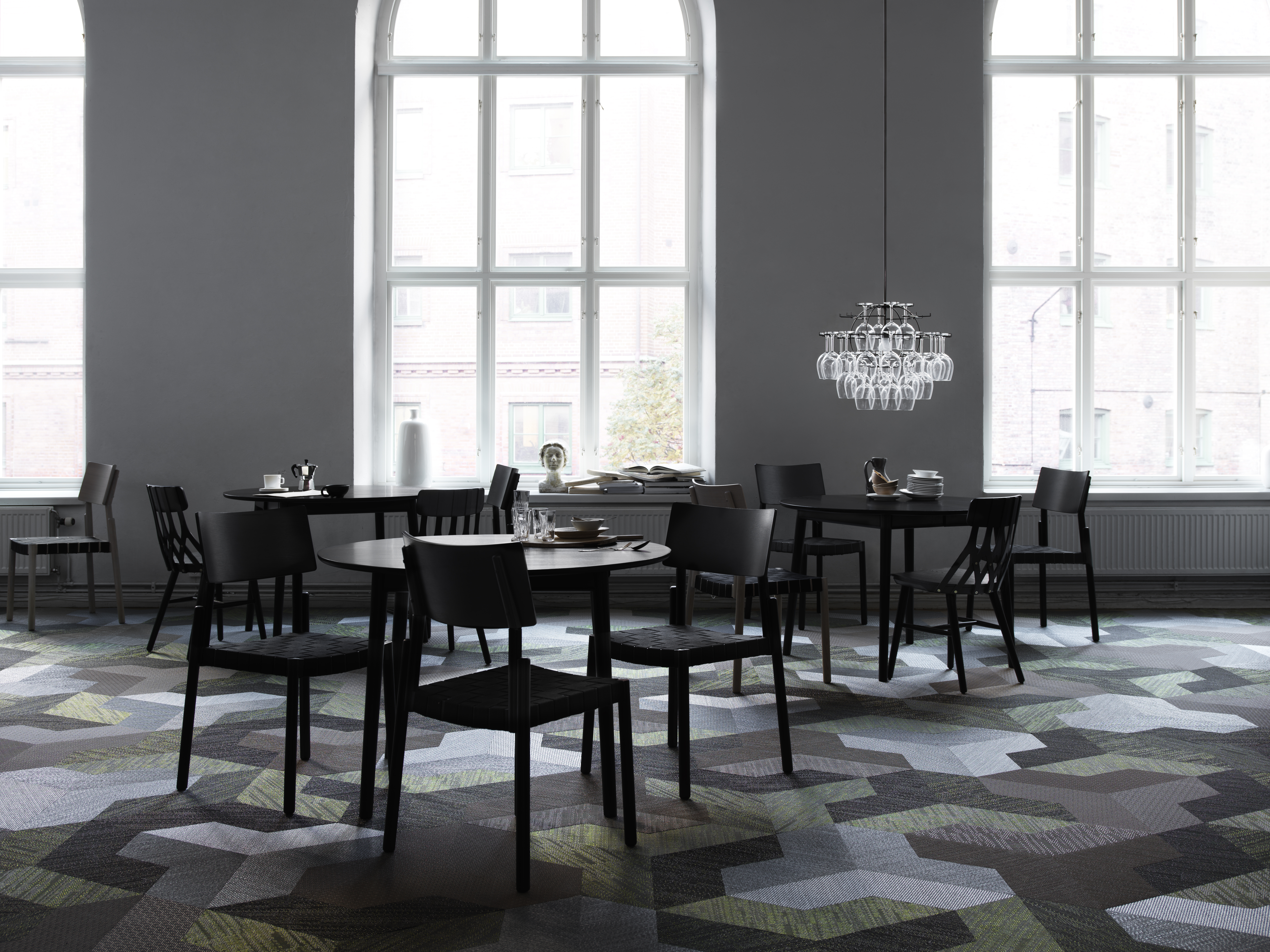 Wing; Artisan Ecru, Silence Gracious, Ocular and Now Silver.
Scale is the first from Bolon to feature an organic form. Soft and rounded, the design has a form reflecting the natural, glistening beauty of fish skin. The new, more fluid shape offers exciting interior possibilities particularly in combination with creative use of our exciting colour palettes.
Bene showroom, Germany. By brining the tiles up onto the walls, the design fluidity of 'Flow' Stream, Alga, Coral and Shell is beautifully showcased.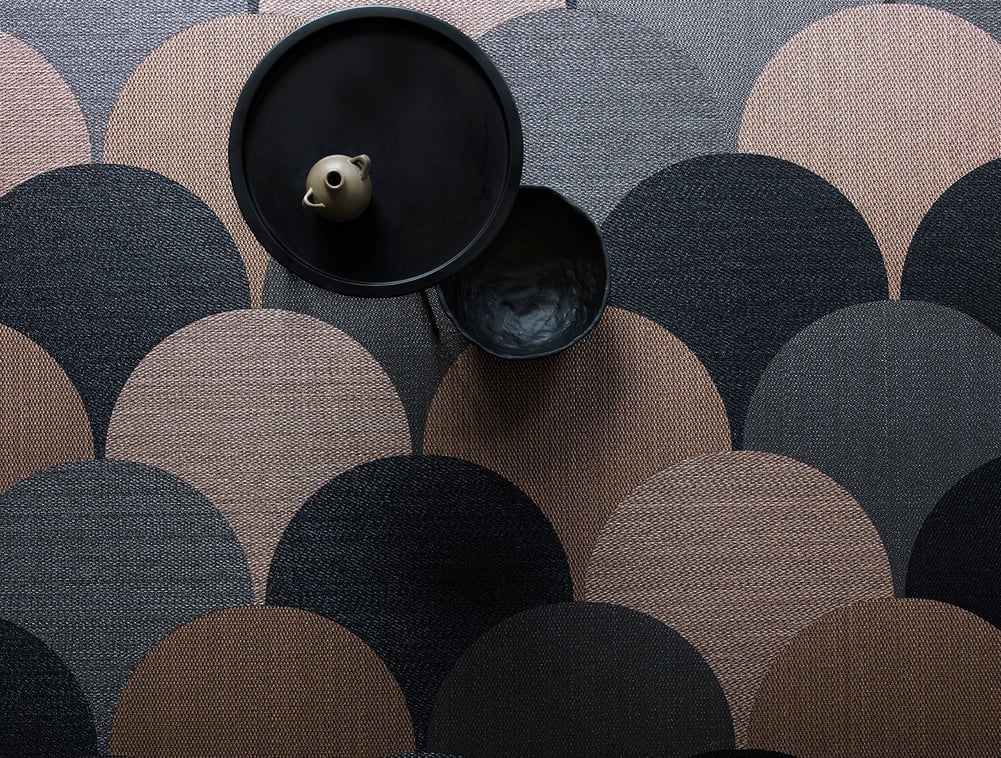 Scales in Ethnic Gabna, Abisko, Bkb Sisal Plain Black.
Inspired by the curvature of terra cotta rooftop tiles, as often seen in Sweden, 'wave' was developed in 2017. Its graphic profile and organic curvature make it a fluid, versatile flooring tile that can be combined in a wide variety of colours and patterns for a playful, yet elegant expression.
With its innovative form, Wave can be laid in different directions and repeated at half distance. Its graphic yet organic shape means the design versatility of this tile is almost unlimited.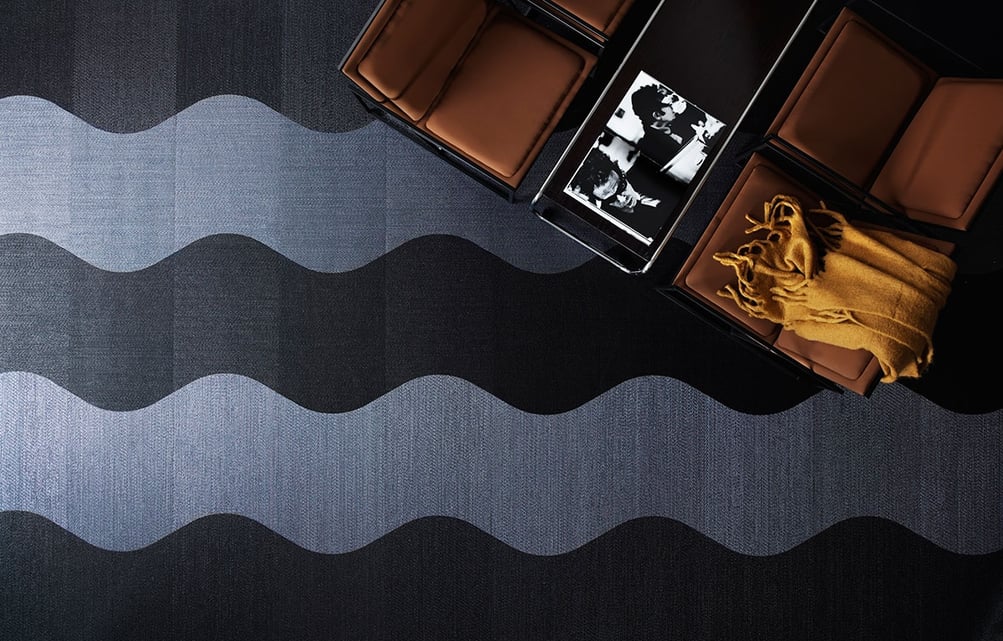 Waves in Bkb Sisal Plain Black and Now Anthracite.
Wave in Artisan Ivory, Bkb Sisal Plain Black, Now Anthracite.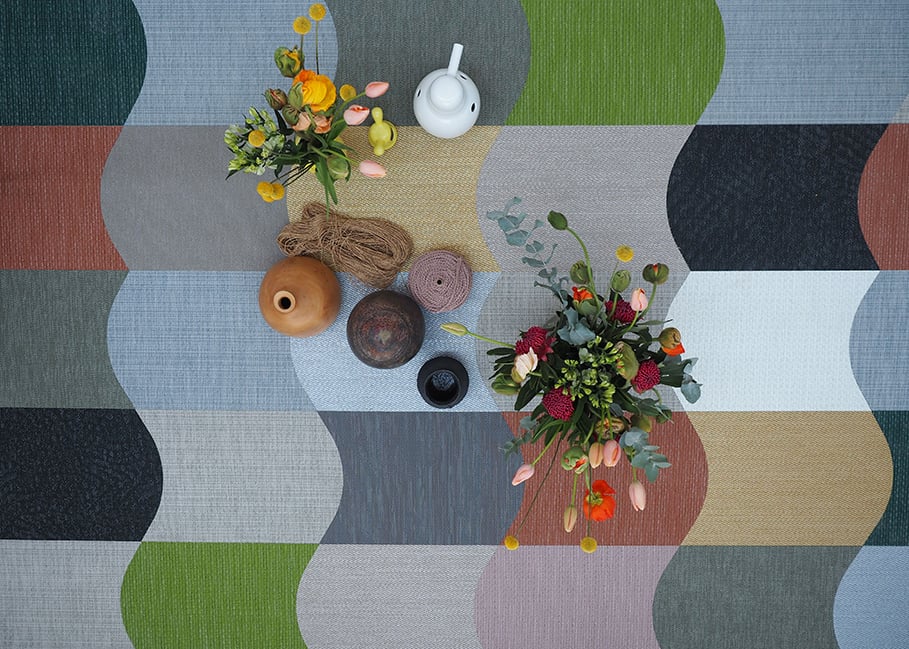 Wave in an innovative setting.
LINK:
The newest addition to the Bolon Studio collection, LINK has a rhombus shaped form that could either be combined with the other Bolon Studio flooring shapes or installed by its own. Getting along especially well with Hexagon, the combination of LINK and other geometric tiles make a perfect combination.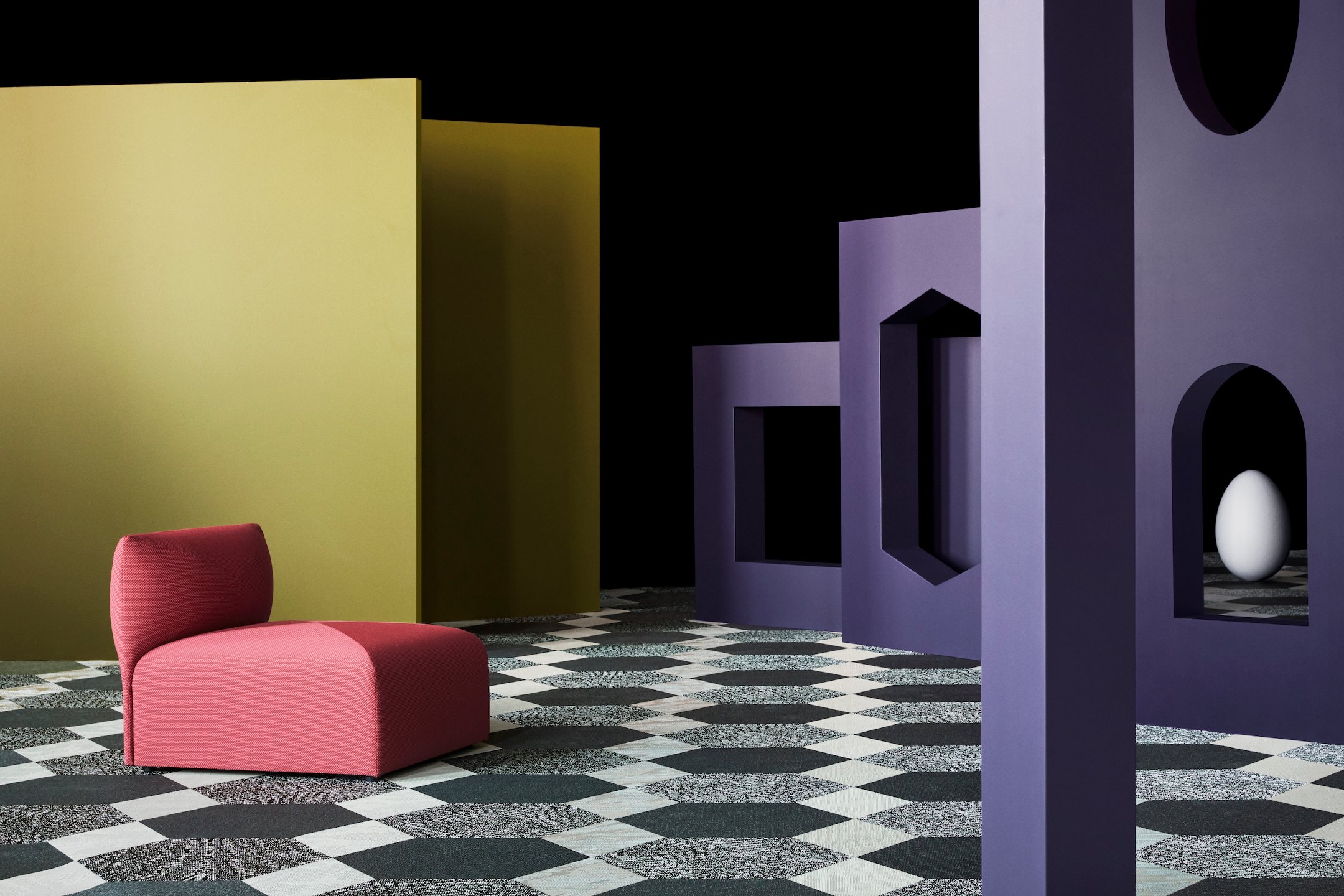 Seen here is Diversity; Bouquet Pure in link shapes and hexagon shapes in Diversity Buzz; Grass.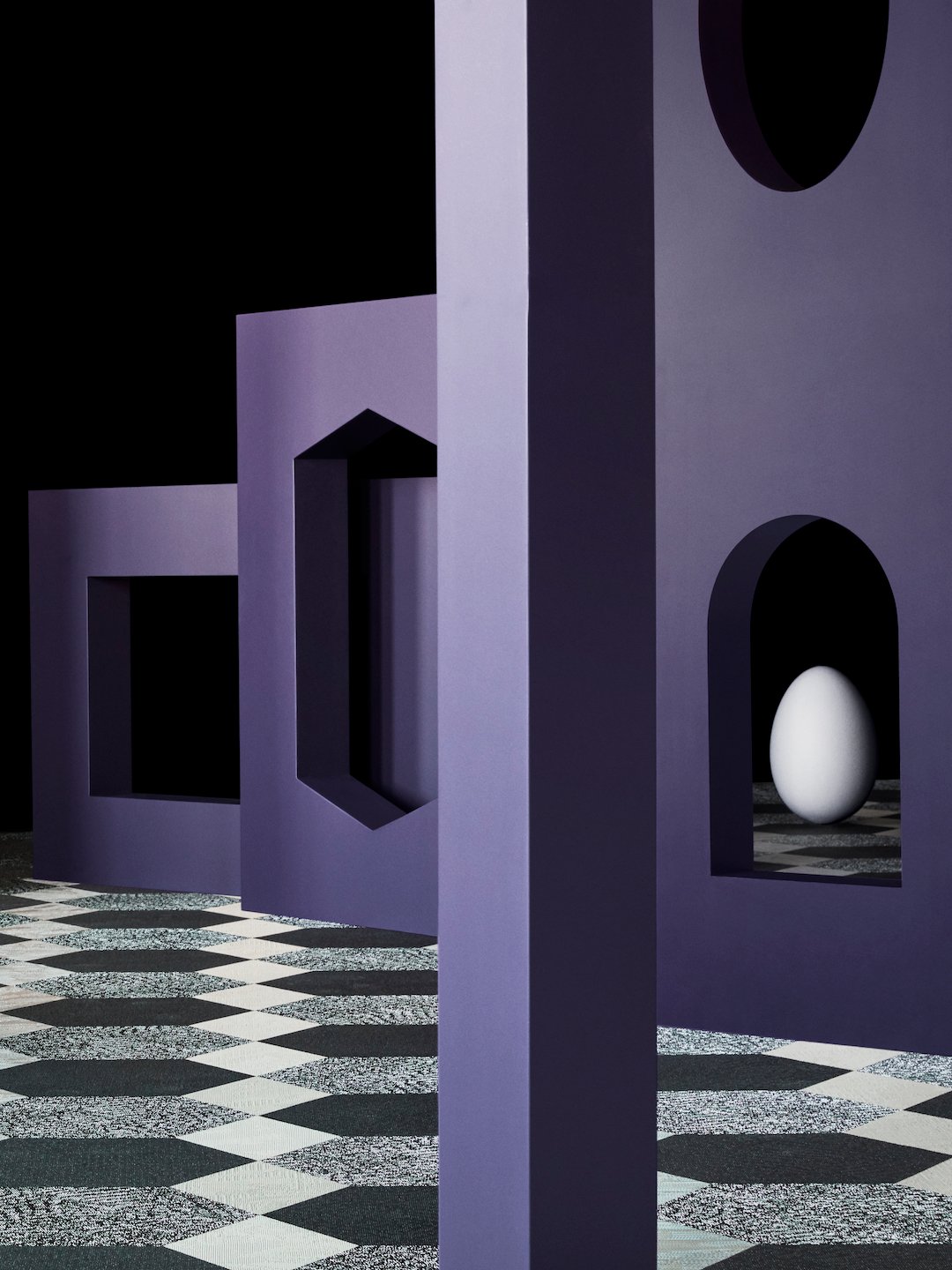 Link studio tiles in Diversity; Bouquet Pure and Hexagon shapes in Diversity Buzz; Grass
Editor's note: This post was originally published in September 2017 and has been revamped and updated for accuracy and comprehensiveness.