Through universal design, we can better accommodate visitors with disabilities, but the real benefit of universal design is that it allows for engagement of the whole community. The Norwegian Association of Disabled (NAD) uses universal design as a powerful tool to create a harmonious environment meeting the needs of all people, regardless of disability.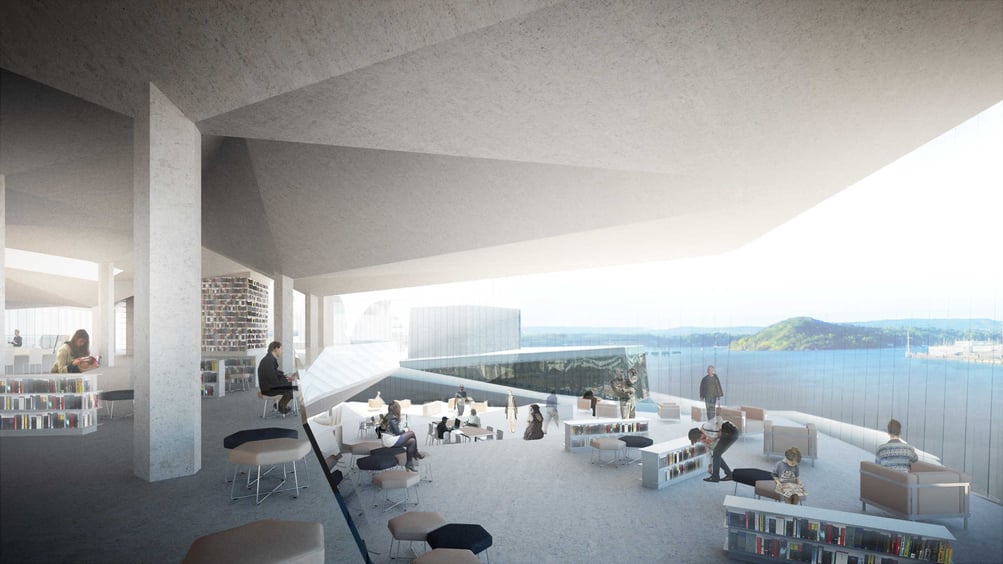 Oslo's Deichman library, a fully accessible building, will feature Bolon flooring from the Elements collection. Photo Cred: Lund Hagem and Atelier Oslo/KID Oslo.
Universal design –
Within the field of architecture, universal design refers to a people-centered approach focusing on creating an increasingly better fit between the human user, architecture and the built environment – allowing for the creation of functional spaces in which all people feel a welcoming sense of belonging, regardless of individual differences such as age, size or abilities.
As flooring often makes up the largest surface of a building, it plays a major role in creating universally designed spaces which provide a comfortable environment for all. How do we design spaces so that the flooring enriches the building rather than becoming an obstacle for the young mother with a pram, the blind person or the elderly – and all people in between?
The NAD knows.
The Norwegian Assocation of Disabled (NAD)
The Norwegian Association of Disabled is an advocacy organisation of people with disabilities. Their vision is that of a society where people with disabilities have the same opportunities as other people to live according to their wishes, abilities and interests.
It is therefore specially important for NAD to provide their employees and visitors with a universally designed office built with materials that accommodate everyone, regardless of disability. Apart from the functional aspect, NAD had several aesthetic requirements and wanted to eliminate the risks of their office being perceived as 'institutional', aiming for a well designed building where the interplay between light, colour, indoor air quality, accessibility and acoustics together create a space where you'd instantly feel good, regardless of who you are.
NAD chose Bolon due to the following reasons:
1) Durable flooring that is easy to roll on
NAD were in need of a flooring that could withstand any pressure exerted by wheelchairs and mobility scooters. As Bolon's material is durable, firm and not prone to buckling or bunching, the chosen flooring solution would provide a surface that wheelchairs and mobility scooters could easily roll on.
NAD and their representative Anett Kleven's requirements were completely in line with the principles of universal design. The architect Elin Vang Kristiansen from Universell Utformning AS, who was responsible of designing the NAD office explains:
"For this particular project, it was crucial that the flooring would accommodate for wheelchairs, as many wheelchair users work or frequently visit the building. With Bolon, we managed to find a flooring solution that possessed this quality but simultaneously provided a textile feeling", says Elin Vang Kristiansen.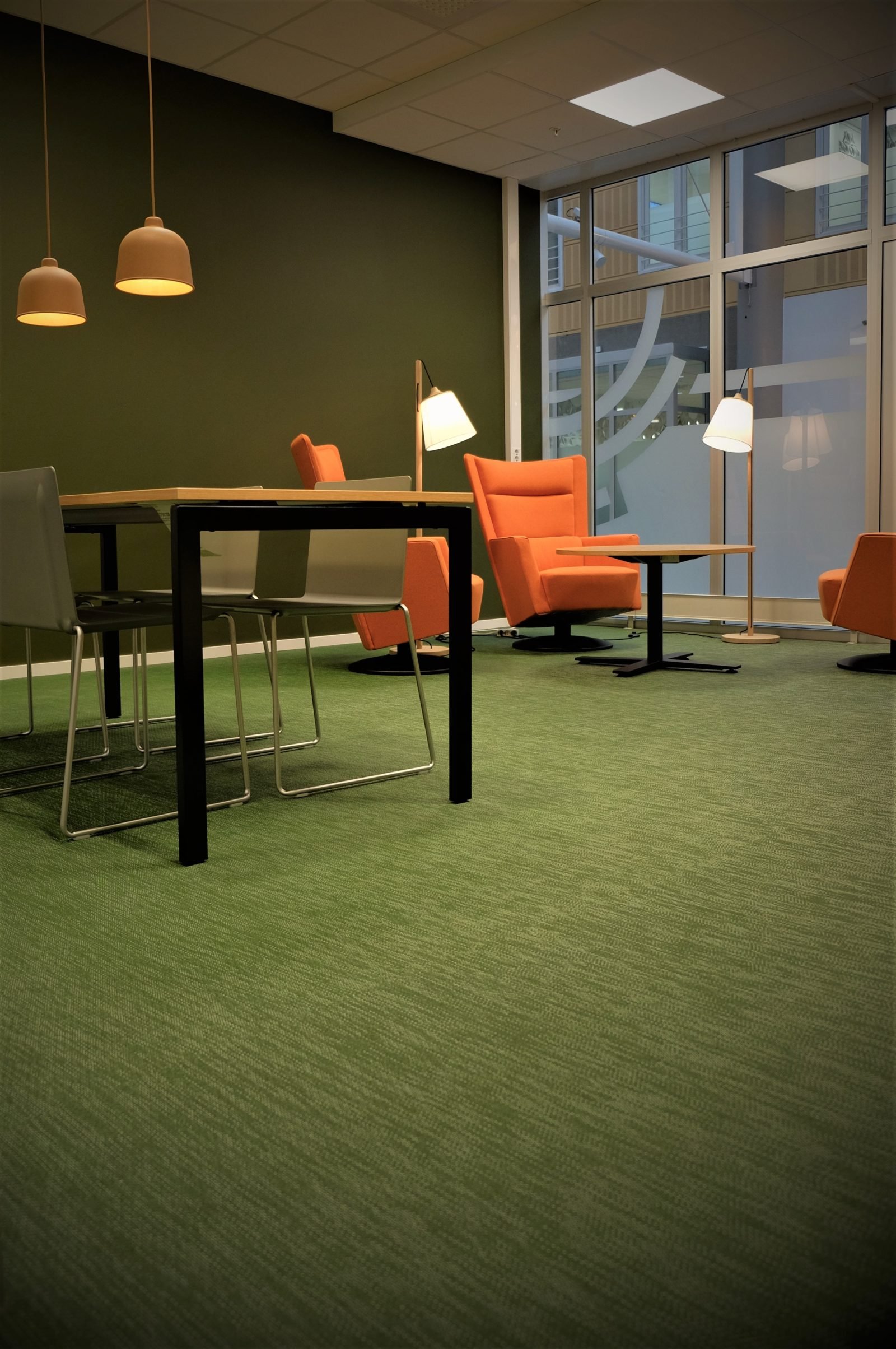 One of the rooms in NAD's office.
2. THE PRACTICAL ADVANTAGES OF WOVEN VINYL, YET A TEXTILE FEELING.
The textile feel that Bolon provides is also a reason for NAD choosing Bolon, as the flooring is not only aesthetically pleasing but also functional since the matte finish contributes to minimum glare from windows and lightning within the building.
Ceramic flooring, as an example, can cause glare and visual confusion for people with low-vision impairments whereas light coloured carpeting with a matte finish, increases light without increasing glare. From an aesthetic perspective, the textile character of the woven vinyl contributes to a welcoming environment that is both accessible and beautiful.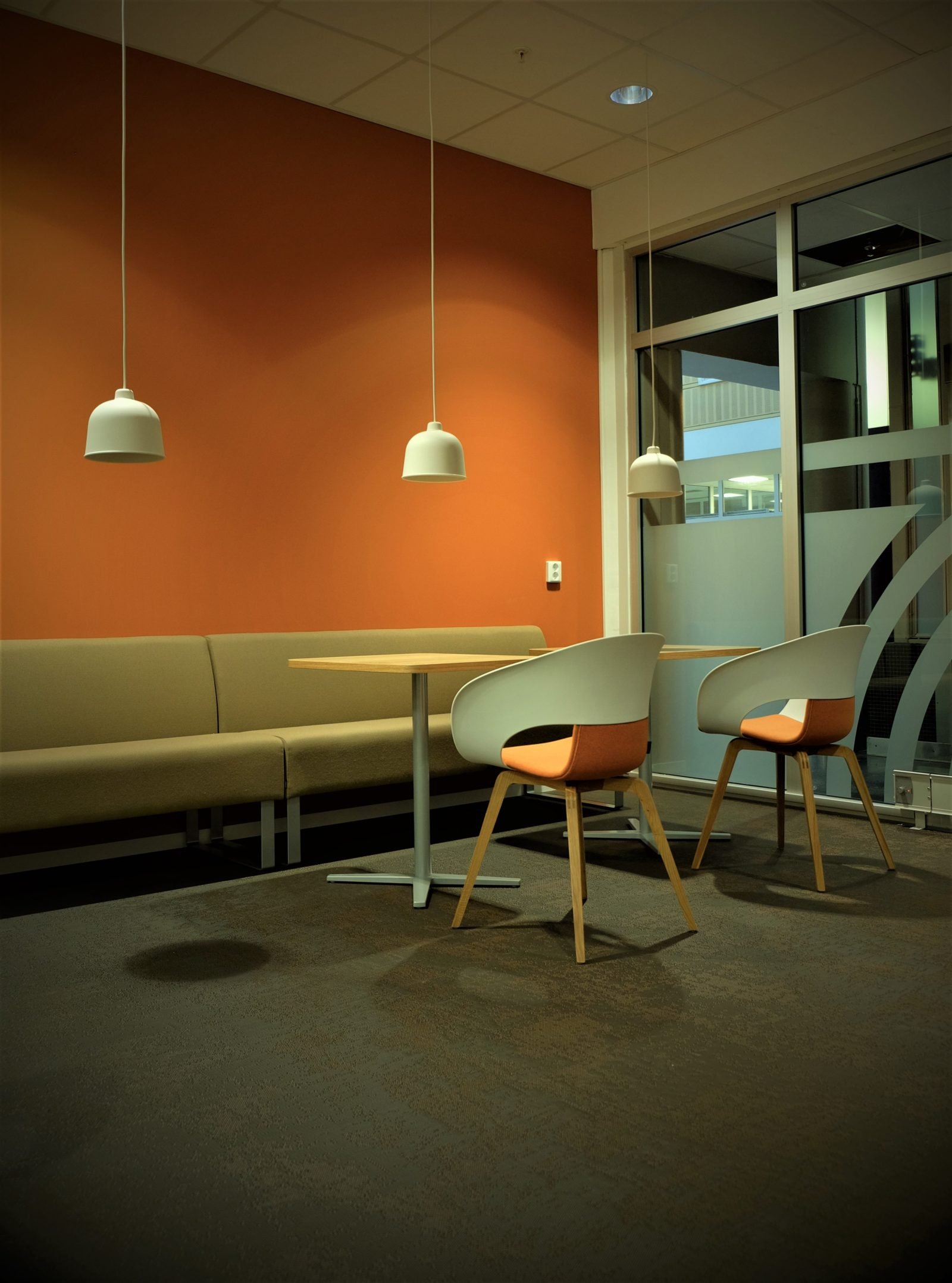 The feeling of textile, yet the practical advantages of vinyl.
3.
VISUAL GUIDELINES IN SOLID, CHANGING COLORS.
Many people, especially among the elderly, take cues from the floor. As a result, facilities may usefully apply color patterns to help guide visitors through a building, with changing colors to indicate and define different areas and spaces. For this reason, NAD chose to use the colors, contrasts and different patterns of the Bolon flooring.
Elin Vang Kristiansen explains the importance of remembering that highly contrasting colours in geometric patterns could be perceived as confusing and should be avoided. She explains:
"The deliberately chosen patterns in the corridor don't have a large pattern, as some people with impaired vision would experience it as disturbing. It is also a requirement that patterns in corridors that may seem misleading are to be avoided, according to the Norwegian construction regulations", says Elin.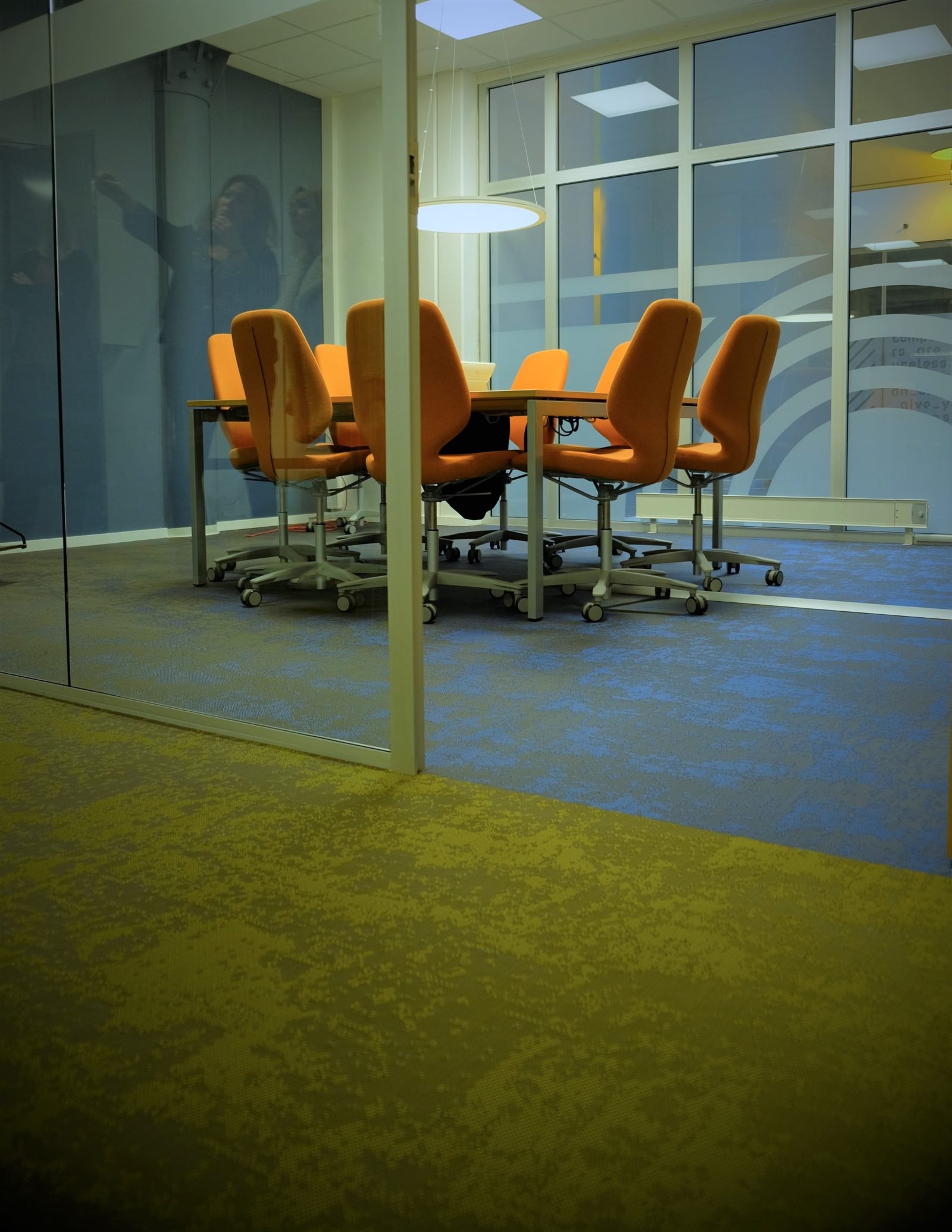 Colors and patterns of the floor are used to help guiding visitors around the building.
4. ACOUSTIC FLOORING CONTROLS THE ACOUSTICS OF THE SPACE.
As explained in this blog post, acoustic flooring is an important feature in a public building as it prevents the transmission of sound disturbances. In a public building, such as a library or an office, reduced footstep noise can be of significant importance.
Elin Vang Kristiansen recognised the need of reduced footstep noise but desired a flooring that wouldn't completely leave out sounds, as she wanted the employees to be able to hear if people were on their way to walk into your office.
"By using Bolon, we found a material that only reduced footstep noise without excluding sounds completely. This is important since it makes it possible to tell if people are walking in the corridor outside of the office. The fact that we managed to meet the acoustic requirements of the building was a big advantage of Bolon's flooring", says Elin Vang Kristiansen.
5. A FLOORING THAT TOLERATES WATER, IS HYGIENIC, EASY TO CLEAN AND DOESN'T REQUIRE HARSH CHEMICALS.
A flooring that is hygienic, easy to clean and doesn't require any harsh chemicals in the cleaning process is not only a more sustainable choice for the environment but also contributes to a greater indoor air quality as people in the building won't have to breathe harsh, toxic chemicals. This is particularly helpful for the great proportion of the population who suffer from asthma and different kinds of allergies. For NAD in particular, an easy-to-clean-flooring which wouldn't absorb any of the dirt or sand that wheelchairs bring in was a must.
"Now the flooring has been used in the office for a little more than a year but it looks as nicely as it did from the beginning. It is convenient that we can use the same flooring in the kitchen and the office and we also have a lot of plants in the building so it feels safe knowing that the flooring tolerates water", Elin concludes.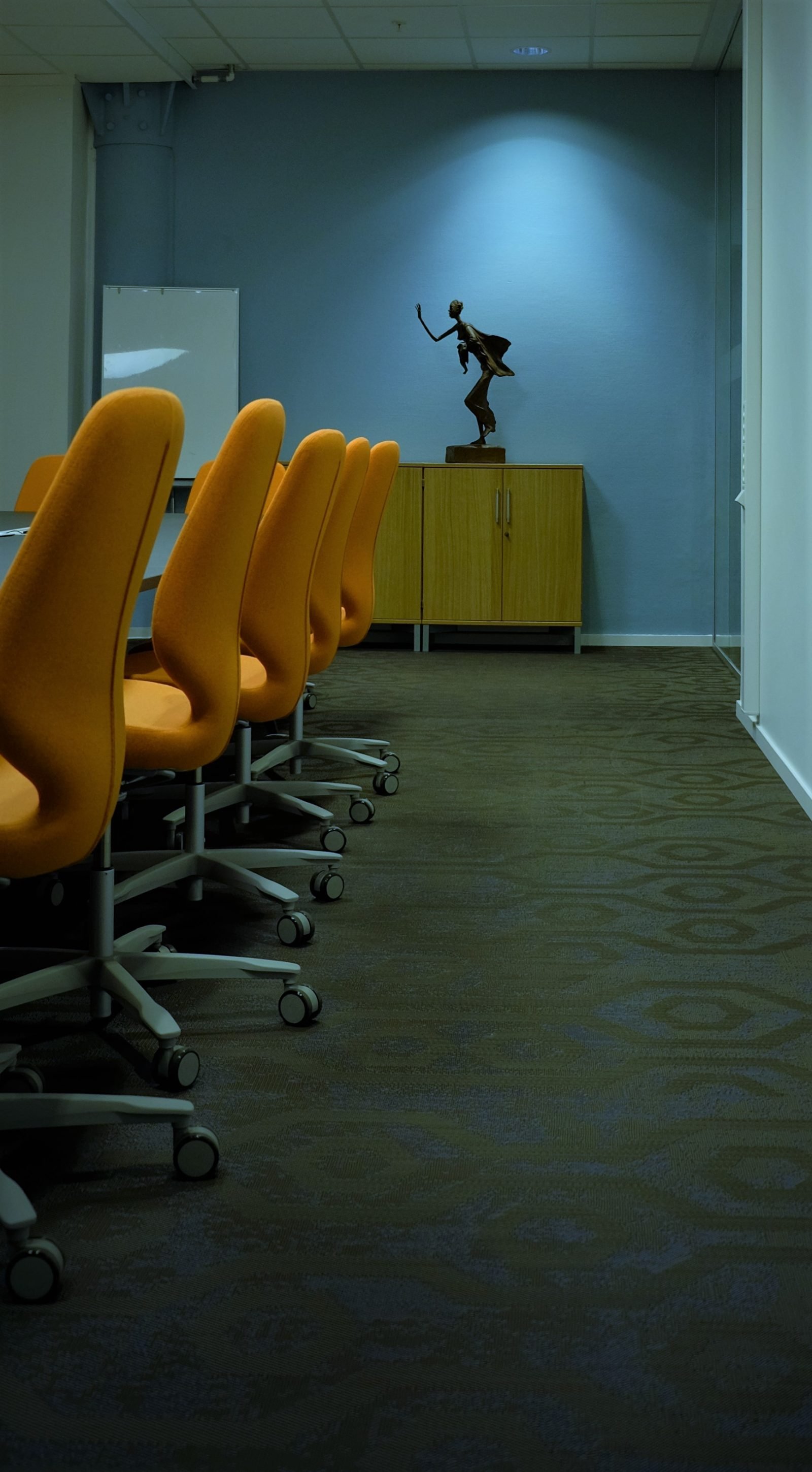 Patterned flooring with three-dimensional effects depending on how the light falls onto the flooring.
Kai Gustavsen from the Norwegian Asthma and Allergy Association, NAAF, agrees. He also claims that from a health, environmental and safety perspective, in Norway referred to HMS, Bolon fills all criterias.
"It is sustainable to choose Bolon, both from a health, environmental and safety perspective", states Gustavsen. He means that from a healthy perspective, Bolon contributes positively to indoor air quality, and he therefore recommends Bolon both in respect to those diagnosed with asthma, allergies and other types of hypersensitivity but also for non-allergic people, as the Bolon flooring doesn't allow the accumulation of allergy-causing substances that trigger asthma. From en environmental perspective, apart from certified by certifications like BREEAM and ECO-product, Bolon's flooring is completely free from phthalates. Lastly, Bolon is a safe alternative due to the cleaning aspect since there is no need to impregnate the flooring or treat it with any chemical products – only warm water (tolerates up to 100 degrees) and ocassionally soap and the use of a regular flooring machine.
Universal design - not equal to dull and boring
Contrary to what many people may assume – universally designed buildings that are accessible to everyone, including those with disabilities, don't equal dull and boring architectural design. The Norwegian Association of Disabled (NAD) installed Bolon flooring to provide universal and accessible spaces that are both functional and useful, yet tasteful and aesthetically pleasing.