Shaped by a harsh climate and scarce resources, Norway's culinary tradition is nevertheless rich inspiration for the world's youngest triple Michelin-starred chef.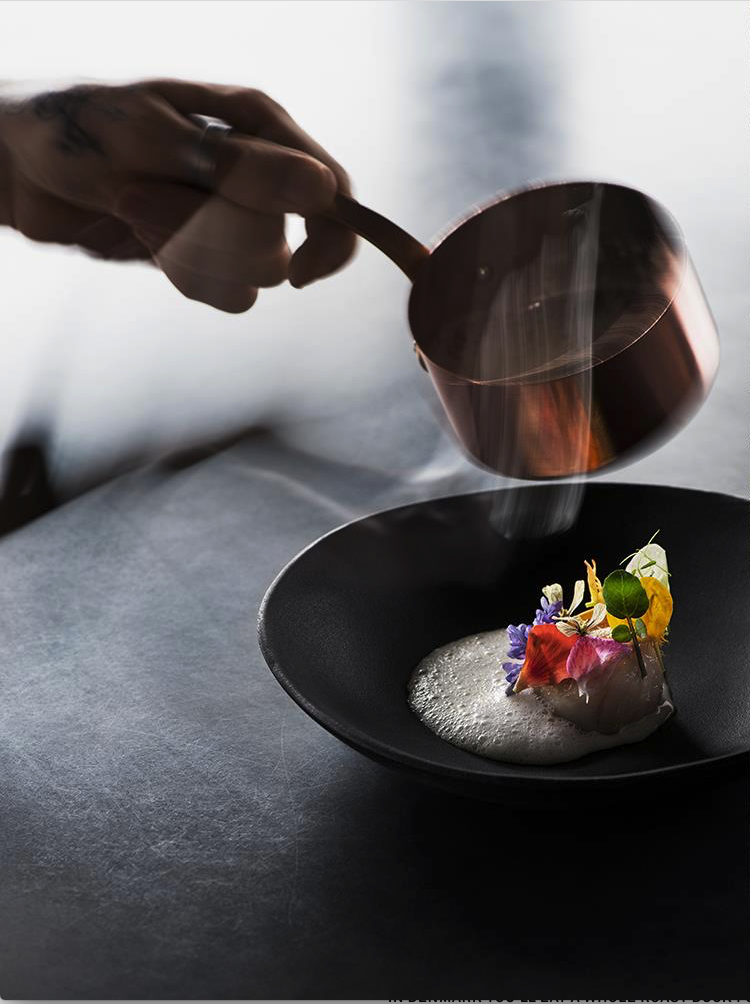 Aesthetically, Maaemo plays with "lines, shape and light" in combination with their culinary experimentation.

IN 2016, THE OSLO-BASED restaurant Maaemo became the first Norwegian restaurant ever to hold three Michelin stars. The restaurant's Danish chef and co-owner, Esben Holmboe Bang, also became the youngest three-starred Michelin chef in the world. But Holmboe Bang isn't in it for the accolades. In fact he's quite clear that he's really "just a cook". His aim is to create a cuisine that honours the traditions of Norway and clearly reflects its history of poverty by using ingredients from the country's past. He's fascinated by the humble culinary traditions that reflect Norway's harsh history and climate, such as salting and drying. His engagement with such traditions is an act of cultural preservation – and evolution – that Holmboe Bang takes seriously.
"In Denmark you'll eat a whole roast duck for Christmas," he says. "Whereas here, it's a salted sheep. It's not extravagant in any way. There is a tension that I really like."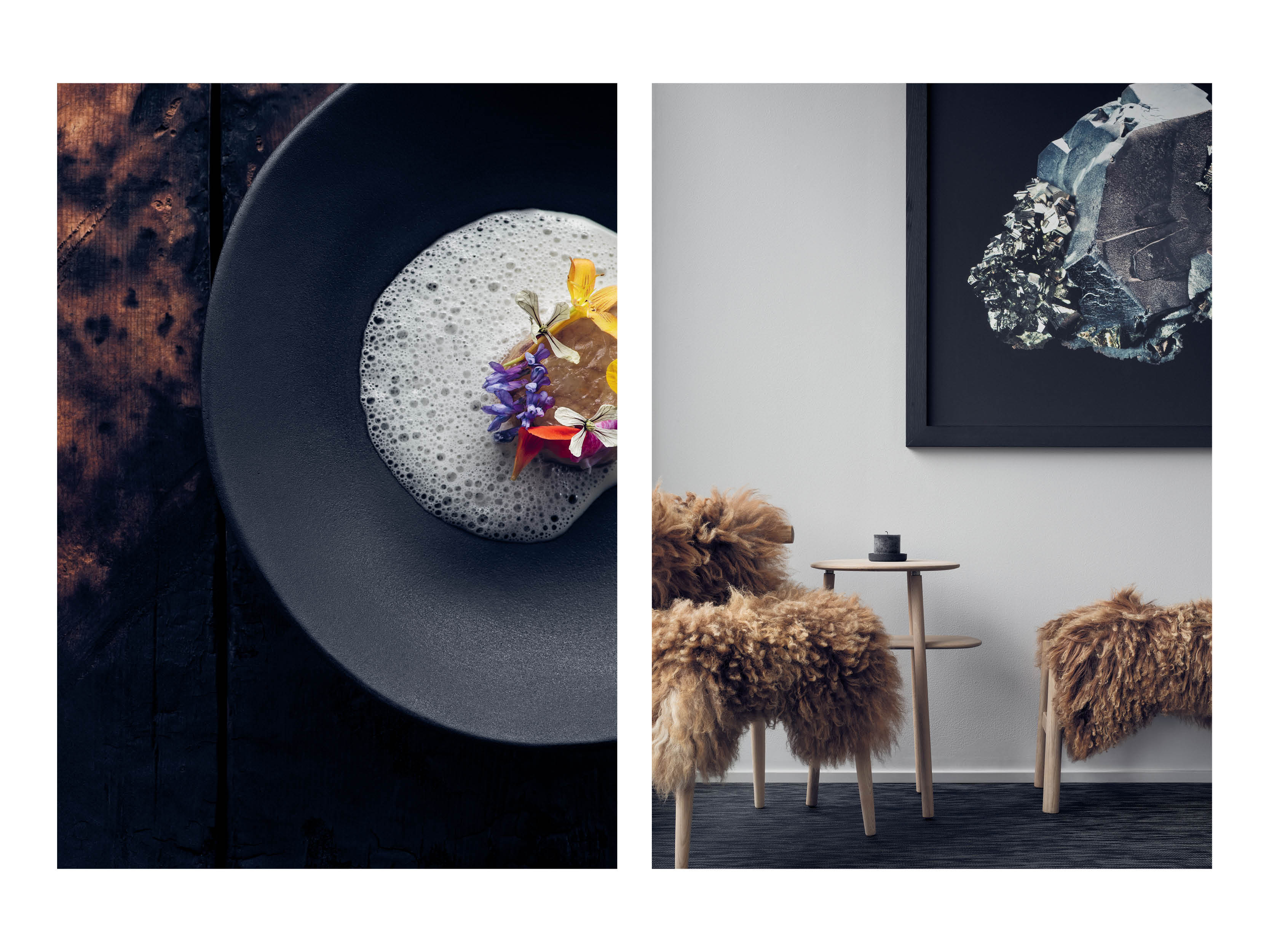 BORN AND RAISED in Copenhagen, Holmboe Bang grew up working in restaurants from the age of 14. His love for cooking was ignited as a child when his father made kjøttbein ("meatbones"), a dish of meat on the bone roasted in the oven – he remembers it being set on the table and everyone digging in with their hands. "I've always been interested in food from a social standpoint," he says. "In my family, we always gathered around to eat, and it was the only time we would really gather. The meal was the most important thing." Holmboe Bang, now 35, lives in Norway with his wife and their two children. When he first met his wife, she brought him to Oslo, where he quickly fell in love with Norway: its history; its stunning scenery; its amazing diversity of seasonal fare. And produce has always been his starting point – the point of ignition or the spark that sets a dish in motion. The coastline, too, is key, with its abundance of fresh seafood including scallops, langoustines and cod.
WHEN HOLMBOE BANG opened Maaemo in 2010, he chose to situate the restaurant in the most modern part of Oslo because he wanted it to stand on fresh ground. The restaurant is located in Bjørvika, which is in close proximity to the docks, where the fish comes in, and to the forests, where Holmboe Bang and his staff forage for herbs and berries. It also presented an opportunity to juxtapose old Norway on the plate with new, more modern surroundings. The restaurant has only eight tables in the main dining room, in addition to a private test kitchen table that has a direct view of the chefs at work and the distinctive skyline of Bjørvika. The monochromatic design of Maaemo's interiors plays on lines, shapes, rhythm and light to result in a poetic, Nordic modernism, with dark woven Bolon Graphic Etch flooring as a foundational element of the space. To Holmboe Bang, the spatial experience of the restaurant and the materials used in it should resonate with the wider aim of the restaurant. His interest in Bolon flooring stemmed from its low environmental impact and versatility.
"I wanted Maaemo to reflect where we are in the world," says Holmoe Bang. "That's why the monochrome interiors reflect the modern Nordic ethos of the restaurant.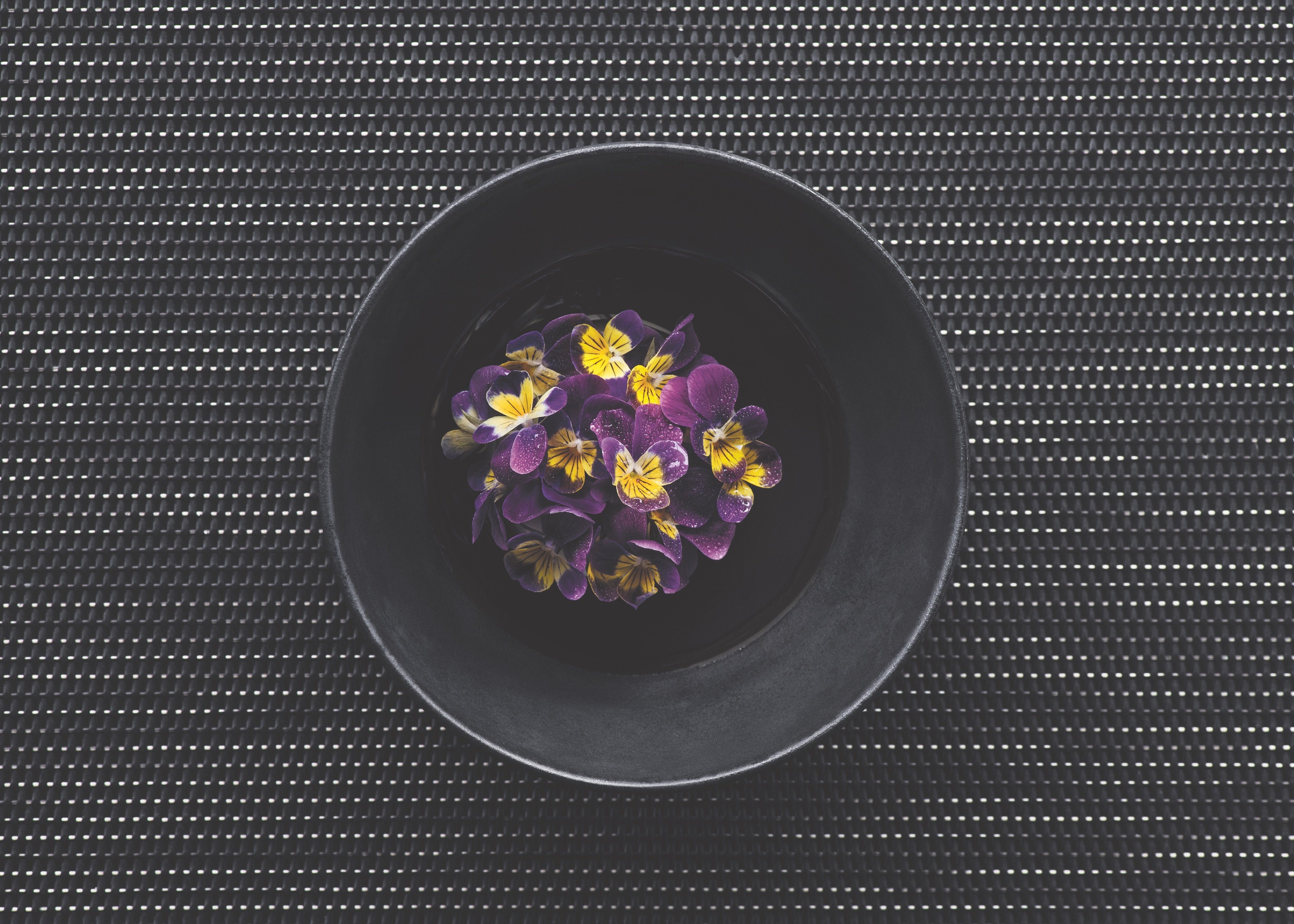 This article is a short version of a feature originally published in Bolon's magazine named Projects We Love.