Over the years in the flooring industry, we've learned that some practical factors, such as maintenance, sustainability and durability play an essential role in every flooring decision. But what are the most important factors to consider when choosing a flooring solution for a hotel, an office or a retail space?
HOTEL flooring - DIFFERENT AREAS REQUIRE DIFFERENT solutions
The process of choosing flooring for a hotel building can be a daunting task, as different areas within the hotel have dissimilar functions and will therefore demand different flooring materials.
To find the best fit for each space, our best advice is to carefully identify each area and the foot traffic involved.
In public areas, with high foot traffic, you should aim for a flooring that is suited to withstand a lot pressure, whereas in other areas with less foot traffic, you may want to take the opportunity to install a more delicate flooring alternative that doesn't have to perform on the same level in terms of durability.
Below, we've listed our best advice on choosing a flooring for two of the most important hotel areas; the hotel room and lobby.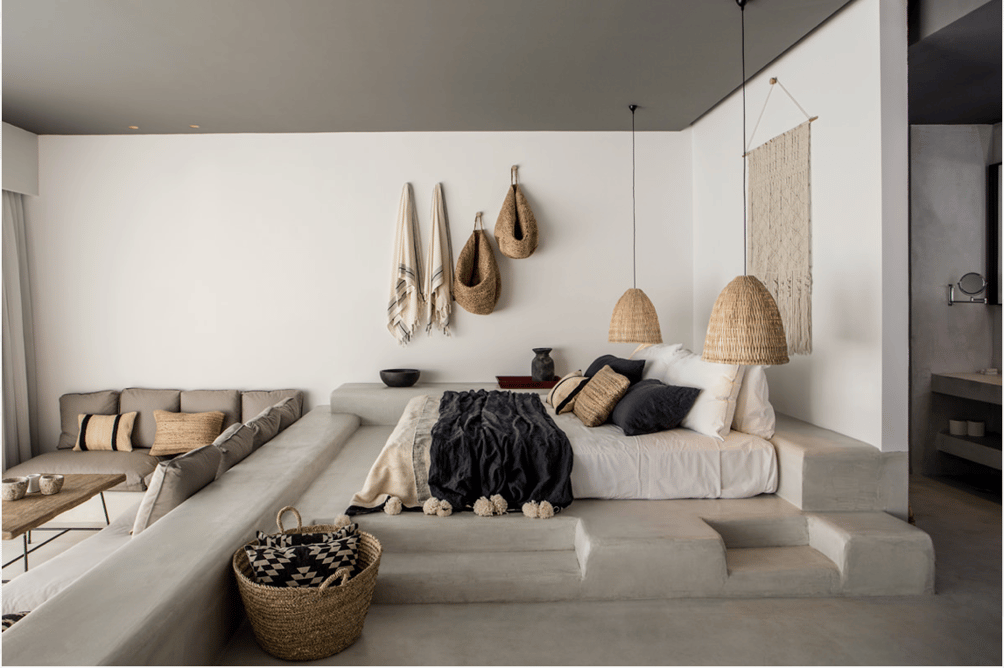 Beautiful hotel room at Casa Cook Hotel, Rhodos. Photo cred: Casa Cook
The hotel room:
COMFORT -
Other than being hygienic, durable and easy to clean, hotel room floors should serve the purpose of providing guests with a welcoming environment in which they instantly feel at home.
How to best provide a sense of comfort?
Ditch the textile carpet.
Instead of installing a thick textile carpet that collects tremendous amounts of dirt, allergens and dust mites, we recommend you to find a flooring that will contribute to the comfortable feeling of textile, yet possesses all the important features of an easy to clean, hygienic flooring.
HYGIENE -
As previously discussed in an earlier blog post, the hygienic factor should play a vital part in every flooring decision. The hygienic aspect becomes extra important when choosing flooring for a hotel room, as guests crave a clean environment in their temporary home.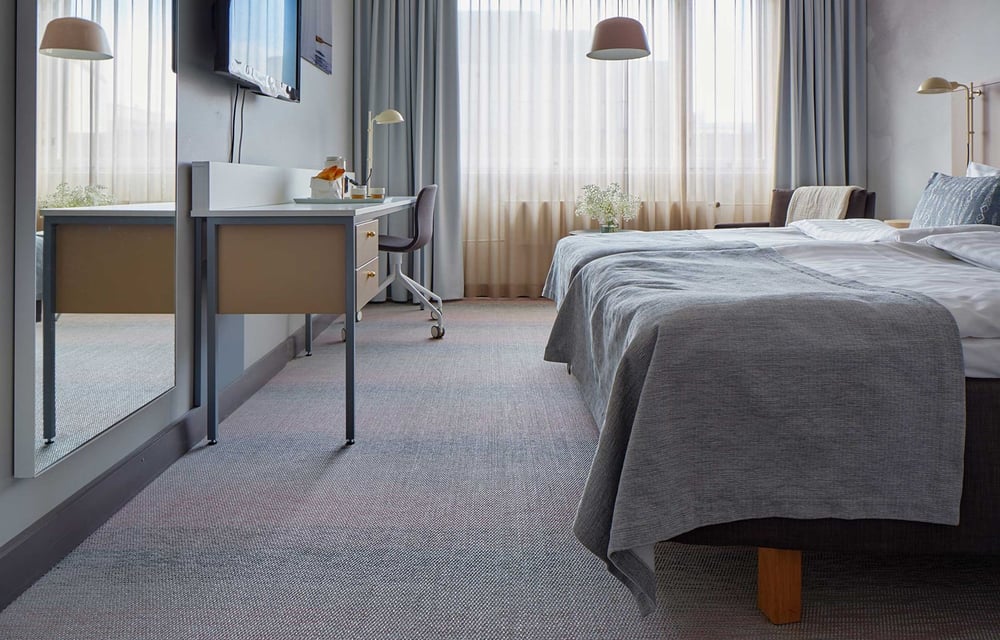 Original Sokos Hotell Presidentti, Helsinki. Flooring: Bolon Flow; Coral.
The lobby:
DURABILITY
The hotel lobby will require extremely durable flooring, since people, bags and luggage trolleys will put nonstop pressure on the surfaces of these floors.
ACOUSTICS
When designing a hotel lobby, one may mainly focus on how the hotel lobby looks rather than how it sounds.
Acoustic flooring, as well as textile rugs, will absorb and ultimately reduce some of the noise that high heels, bags and luggage trolleys etc. contribute to. This could be of value in a hotel lobby where there is a need to keep noise levels down.
UNIQUE FLOORING DESIGN
From an aesthetic perspective, the hotel will benefit from a signature statement flooring that differentiates themselves in the minds of guests. Installing a flooring which stands out in terms of design, will make a strong, first impression on guests as soon as they enter the building.
General areas:
Sustainability, extreme durability, design, hygiene and cleanability are the most important factors to consider when choosing flooring for a hotel building. It might seem difficult to find a flooring solution capable of meeting all those needs, but we can ensure you that the time spent finding the perfect flooring will be well worth it in the end.
RETAIL - INCORPORATE BRANDING INTO THE FLOORING DESIGN
Choosing flooring for a retail store is all about finding the right design scheme.
The stunning retail design at Margot Molyneux shows that flooring isn't everything... but a huge deal.Photo cred: Sight Unseen
DESIGNING AN ENGAGING RETAIL ENVIRONMENT
Since flooring covers the whole surface of a retail space, it directly contributes to the visitor's overall impression and perception of the brand. By incorporating branding into the flooring design, retailers may take the opportunity to create an engaging, branded environment that clearly communicates their core brand identity to customers.
DESIGN THAT WILL STAND THE TEST OF TIME
An ideal retail flooring design is one which will stand the test of time. Whereas the interior design of the merchandise will change every so often, the flooring won't get replaced as frequently, and should therefore be of a kind that is easy to design around.
A neutral, not too bold, flooring solution might be a good idea if the interior design concept is planned to change seasonally.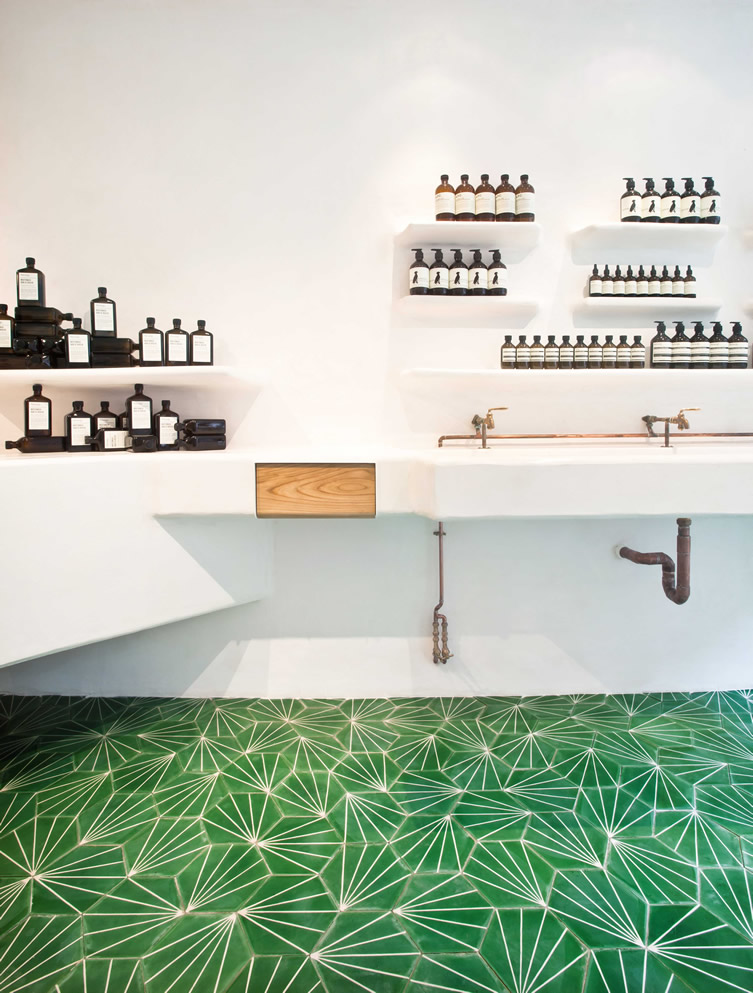 Aesop, London. Flooring in line with the Aesop brand, communicating environmental design and aromatic experiences. Photo Cred: We-Heart.
IMPROVING CUSTOMER ACCESSIBILITY
There is no longer any doubt as to the importance of providing a barrier free, wheelchair accessible flooring that welcomes everyone, regardless of means of disability. By installing flooring that aid people with limited mobility, the retail store does what every public building should – providing access to all.
SUSTAINABILITY
The relevance of sustainability has gained increased attention in all business areas in recent years. From a retail perspective, it is vital to show to customers that you are aware and care about the environmental impact the retail industry has. This includes improving the sustainability of products, processes and the sourcing of material. Finding a flooring made of sustainable material is a must, and should be of importance to everyone retail store.
OFFICE - DESIGn for a PRODUCTIVE WORKING ENVIRONMENT
One of the most important aspects in designing an office is to recognize the need to create a working environment which accomodates all kinds of people, encouraging them to be efficient and... happy.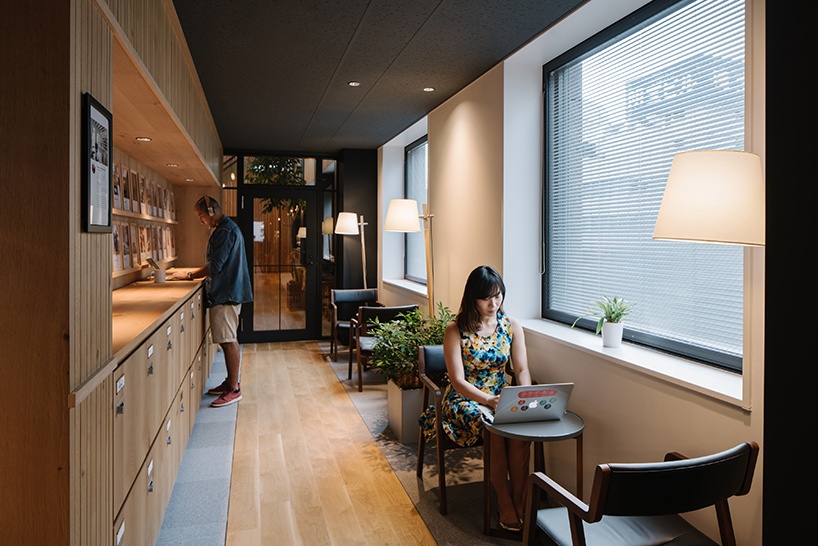 Airbnb Office, Tokyo. Airbnb's offices are inspired by real listings around the world. Photo cred: DesignBoom.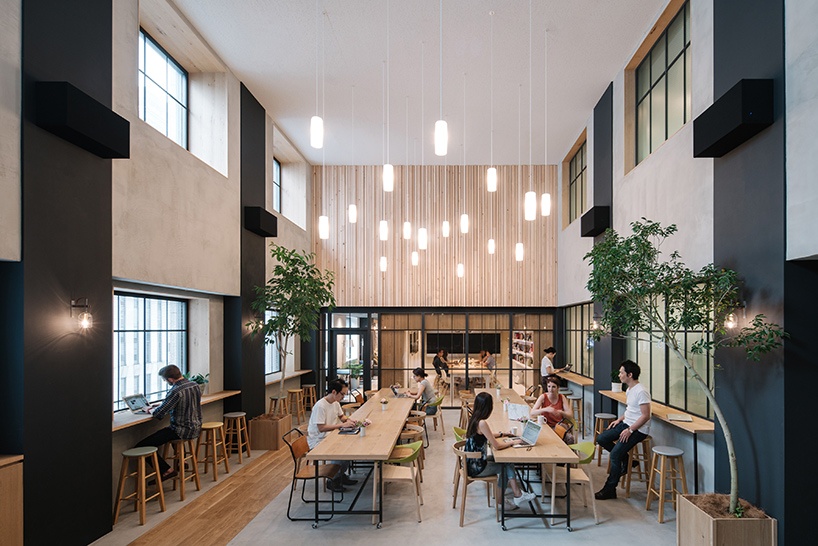 Replicating nature, the Airbnb office design mixes different wooden materials and neutral, earthy colors. Photo cred: DesignBoom

DESIGN FOR PEOPLE
Office design serves two main functions:
1) Creating a positive environment for employees, clients and guests. Ideally this is done by reinforcing the organisation's core values through various design elements, such as flooring.
2) Creating an office space that allows employees to adapt the workplace to their current needs.
A flooring solution that is well-paired with the rest of the interior office design will not only invite clients and employees to the office space, it will make them want to stay there.
HEALTH
The choice of flooring will have a major impact on Indoor Air Quality, and ultimately, a major impact on our wellbeing. Therefore, a key aspect to investigate prior to making an office flooring decision is how the different floorings might influence Indoor Air Quality.
In practice, this means investigating how certain floorings might trigger asthmatic and allergent reactions and how much volatile organic compounds (VOC) they contain.
Conclusion:
Maintenance, durability and sustainability have arguably the most important roles in the flooring decision process. Depending on the area in which the flooring will be installed, other factors such as design, cleanability, hygiene and accessibility will play a part too.
Remember to carefully consider each area and its demands when choosing a flooring solution for a building in order to find the flooring that best suits each area.